Funding:
HAZITEK Program. SPRI, Basque Government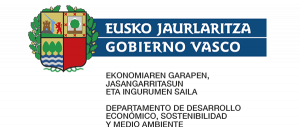 Co-financed by the Basque Government and the European Union through the Europea Regional Development Fund 2014-2020 (ERDF).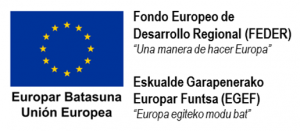 Project:
"Intelligent digital assets in Industrial Environments" and acronym "ADIERA". File No.: ZE-2020/00012
Project information:
Start and end date:
Start: April 1, 2020
End: December 31, 2022
Overall budget:
€ 3.728.600,00
Coordinator:
ORONA SOCIEDAD COOPERATIVAP
Number of participants:
11
Description and objectives:
The ADIERA project focuses on the application of Artificial Intelligence in the industrial sector, not only in decision making in operational processes, but also in those of a strategic nature. The convergence of new AI capabilities with current solutions to exploit and treat data opens new scenarios to maximize the added value of their current industrial products, optimizing the efficiency, availability, interoperability and quality of their resources, maintenance service, design and production processes.
This researching project proposes a lead forward, starting from the concept of digital platform, with an innovative propose based on the transversal application of the artificial intelligence to all digital assets or segments of the digital value network. The result of this project are seen as indispensable as one of the technological bases needed to build the next scenarios of data and knowledge sharing between companies 8IDS initiative or virtual replicas of capital assets to analyse behaviours in certain situations and improve their efficiency (Digital Twin scenario)
The objective of ADIERA is to be able to productive the industrial knowledge, providing industrial solutions and services with intelligent digital assets to continue driving digital transformation in the industry. The Artificial Intelligence and Big Data, digital or virtual technologies such as predictive algorithms and for decision-making, Machine Learning (ML), Data Analytics, Vision Artificial or Digital Twin become necessary tools in the different industrial sectors to optimize and automate processes, as well as to support decision making.
Participants:
PARTICIPATING COMPANIES:
ORONA SOCIEDAD COOPERATIVA (LEADER)
FAGOR ARRASATE S. COOP.
FAGOR AUTOMATION S. COOP.
INGETEAM POWER TECHNOLOGY S.A.
MONDRAGON ASSEMBLY S. COOP.
ORKLI S.COOP.
RESEARCH CENTERS:
FAGOR AOTEK S. COOP.
IKERLAN S. COOP
KONIKER S.COOP.
LORTEK S. COOP.
ORONA E.I.C. S.COOP.