Funding:
HAZITEK Program. SPRI, Basque Government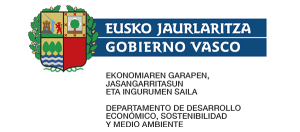 Co-financed by the Basque Government and the European Union through the European Regional Development Fund 2014-2020 (ERDF).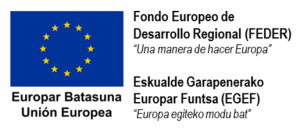 Project:
"Flexible and reconfigurable manufacturing systems based on robot-machine collaboration" and acronym "R2M". File No.: ZE-2021/00021
Project information:
Start and end date:
Start: April 1, 2011
End: December 31, 2023
Overall budget:
€ 3.214.719,59
Coordinator:
SMARTPM
Number of participants:
16
Description and objectives:
In recent years, the market has been demanding intelligent manufacturingsystems capables of providing a dynamic response to the needs of new products, the optimization of available resources and the promotion of more flexible work organizations, which must be reconfigurable to adapt to the needs of these new products. In this context, robotics is considered a key area in technological progress and development, with its industrial benefits including increased productivity, flexibility, quality, repeatability and safety.
For their part, conventional machining techniques based on the use of machine tools (such as CNC milling) have proven to be capable of almost any machining challenge, allowing complex and highly accurate parts to be obtained. However, there are still important limitations: restricted working area, limitation in terms of shapes that can be obtained, as well as the economic cost of the equipment. From a conceptual point of view, industrial robot technology could provide an excellent basis for the machining of parts given its greater flexibility (ability to perform the necessary trajectories in multiple configurations of the robot axes, allowing the obtaining of complex and difficult to access shapes), range, as well as lower associated cost.
The R2M consortium propose to investigate manufacturing systems based on robots-machine collaboration, with the aim of being able to offer flexible and reconfigurable solutions, whose value proposition for the customer is to have multifunctional, resilient and future-proof manufacturing systems. This, focusing on the added value that modeling, simulation and Virtual Commissioning of complex solutions can be provide.
Participants:
PARTICIPATING COMPANIES:
SMART PROCESS MANAGEMENT S.L. (LEADER)
ALDAKIN GIPUZKOA S.L.
ASOCIACIÓN ESPAÑOLA DE FABRICANTES DE MÁQUINA HERRAMIENTA
FAGOR ARRASATE S.COOP.
FAGOR AUTOMATION S.COOP.
JUARISTI BORING & MILLING MACHINES S.L.U.
SORALUCE S.COOP.
RESEARCH CENTERS:

TEKNIKER
IDEKO
IKERLAN
FAGOR AOTEK S. COOP.
KONIKER
VIRTUALWARE LABS
IMH
INVEMA