Funding:
HAZITEK Program. SPRI, Basque Government

Co-financed by the Basque Government and the European Union through the European Regional Development Fund 2021-2027 (feder).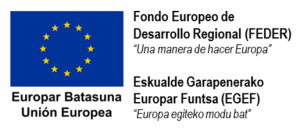 Co-financed by the CDTI. Ministry of Science and Innovation. Spanish Government

Project:
"New generation of high-precision exposed scales with disruptive optics and recording technology for reading on glassy substrates by reflection" and acronym "VITREX".
HAZITEK File No.: ZL-2022/00021
CDTI File Number: IDI-20220738
Project information:
Start and end date:
Start: March 31, 2022
End: December 31, 2024
Overall budget:
€1.084.307,03
Coordinator:
FAGOR AUTOMATION, S. COOP
Number of participants:
2
Description and objectives:
The VITREX project is the result of the strategic need of FAGOR AUTOMATION, within its optical pick-up business, to penetrate with greater impact in high-value markets, beyond the machine-tool. These are markets that demand open technology (exposed) of very high precision and where it is currently hardly possible to find suppliers of high technological value. We are talking about sectors where measurement technology is of high importance, such as the manufacture of semiconductors and electronic components, metrology, the science industry, and the like. And all this in a scenario where every industry is necessarily committed to digitisation and the intelligent use of data to support decision-making, with new and more advanced components capable of generating reliable, accurate data with minimal uncertainty being vital.
To this end, FAGOR AUTOMATION seeks to develop new knowledge within its business, committing to the development of new optical pick-up, recording and software development technologies to overcome the limitations imposed by physics on current technologies, which are a barrier to further increasing the accuracy and reliability of its optical pick-up devices.
The VITREX project will allow FAGOR AUTOMATION to complete a catalogue of cutting-edge international technology, positioning itself as the only supplier in the world, together with the giant HEIDENHAIN, to be able to offer extreme precision exposed technology, reaching the precision micrometer, by means of a robust system, adaptable to measurement environments that require thermal stability and highly reliable.
Participants:
PARTICIPATING COMPANIES:
FAGOR AUTOMATION, S. COOP
RESEARCH CENTERS: